Expamet Expanded Metal Security Fencing, London Underground
You are here » Expamet Fencing » Expamet Fencing London » Expamet Fencing London Underground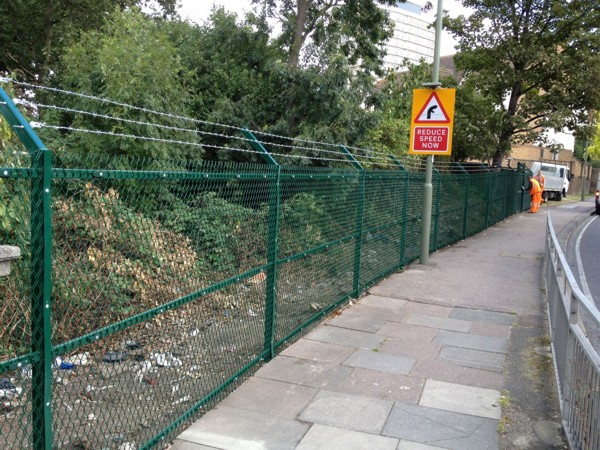 Expamet Expanded Metal Security Fencing London
This new Expamet Expanded Metal security fence was erected in Colindeep Lane in North London for Excel Contractors. The main clients, London Underground and Tubelines, wanted a Green 6005 polyester powder coated fence using 4095 mesh. Also cranked extensions with 3no rows of barbed wire were provided as extra security.
A new gate was required for access to the embankment which included a Raptor security topping and a shield over the locking area to prevent climbing over.
A new expanded metal security fence is ideal on an industrial estate or around a commercial property in order to help prevent unauthorised access.
Alternatives to Palisade Fencing offered by Collinson Fencing would be Mesh Panel Fencing, Palisade Fencing or Chain Link Fencing.
As with all our fencing we offer a free, no obligation quotation, so please contact us today to arrange your site visit.
Return to the Expamet Fencing page.